Site Map & Rules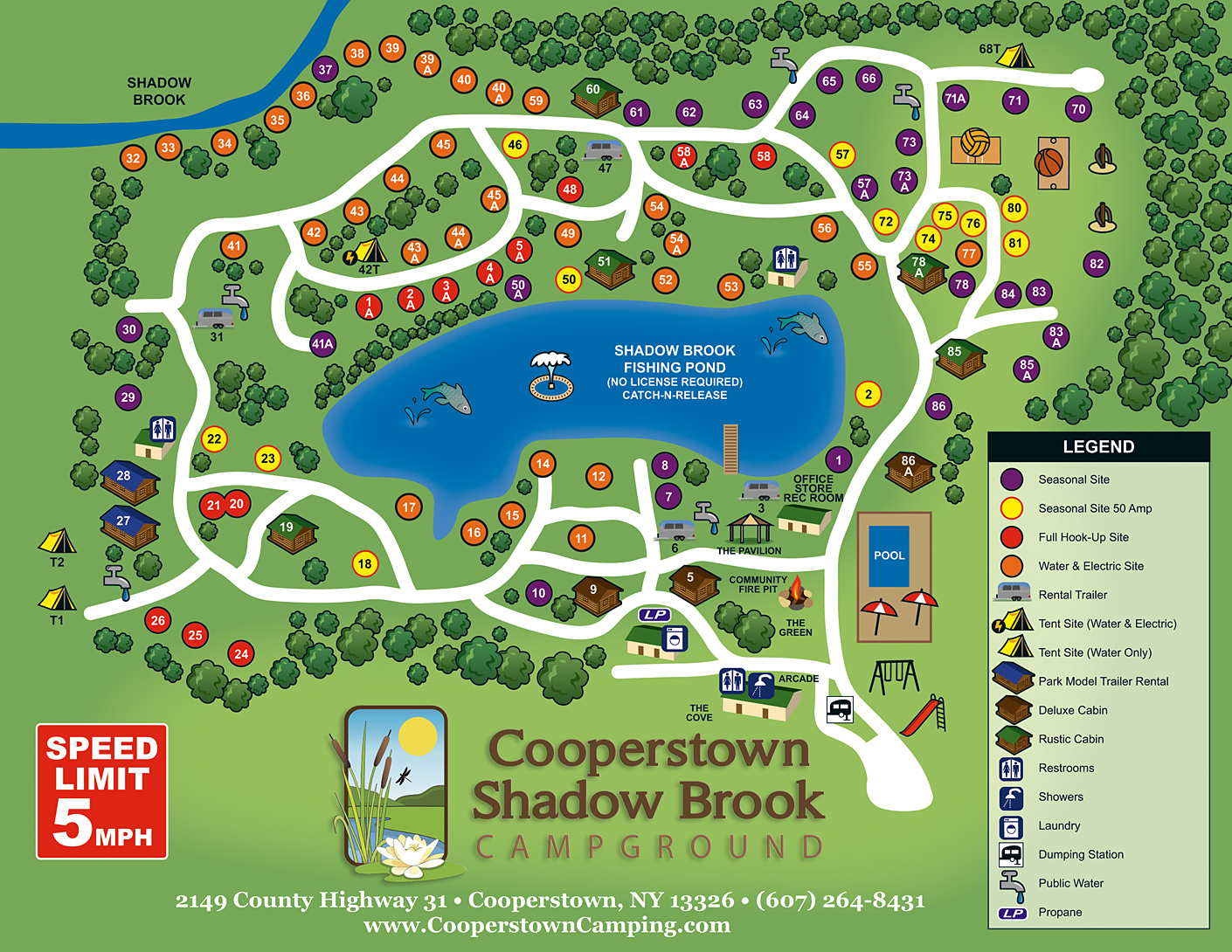 If you would like to print out this map, here is a PDF for your convenience.
Cooperstown Shadow Brook Campground Rules
The following rules and helpful information are in place to ensure an enjoyable camping experience for everyone. All campers are responsible for informing their children and guests of these policies.
Deposit Requirements:
Minimum of 50% deposit required for all non-holiday reservations. All holiday reservations require payment in full when making reservations, including Baseball Hall of Fame Induction weekend. All online reservations require payment in full at time of reservation.
Cancellation Policy:
• 30 days or more: 1 day processing fee
• 15-29 days: 50% refund
• 14 days or less: no refund
Holiday Weekends & Baseball Hall of Fame Induction weekend is NOT refundable.
Campground Rules:
• Speed limit is 5 MPH, including bicycles Quiet time is 10:00 PM until 8:00 AMq
• Children under 9 must be accompanied by parent or guardian at all times.
• Children under 18 must be at their campsite after dusk or accompanied by parent or guardian.
• NYS Department of Conservation Law applies to firewood. No outside firewood allowed due to NYS DEC restrictions.
• Bicycle helmets MUST be worn by children under 16. No exceptions. Bicycles must be at site by dusk. Bike riding not allowed on hills near campground entrance.
• No golf carts, ATVs, motorized scooters, skateboards or roller blades. Licensed drivers only may drive on campground property.
• One RV or tent per site per NYS Health Department rules.
• No firearms, air guns, BB guns, chain saws, sling shots, crossbows, bows & arrows, ammunition, fireworks or weapons of any kind.
• Catch and release fishing only. Please respect our wildlife.
• Paddle boat rentals allowed during office/store hours only.
• NO outside boats, kayaks, canoes or inflatables allowed in pond, due to NYS DEC regulations.
• All vehicles must display camping pass or visitor pass at all times.
• Fire rings cannot be moved. A $20 fee for moving a fire ring will be charged. Campfires are permitted in provided fire rings only. Campfires must be attended at all times.
• Campers may not bring their own firewood to campground unless coming from less than a 50 mile radius, per NYS Dept. of Environmental Conservation laws.
• No foraging for firewood or cutting/breaking of trees allowed.
• Garbage to be bagged and placed at campsite curb between 8:00 AM and 11:00 AM and again from 5:00 PM to 7:00 PM. Please use recycle bins for recyclable metal, plastic & glass.
• No disruptive behavior. Disorderly contact will not be tolerated. No underage drinking or illegal drugs. We reserve the right to evict anyone at any time or refuse entrance to anyone violating the campground policies.
• No political, controversial or potentially offensive signage, banners or flags. CSBC is meant to be a place of calm, rest & fun. Any singage, banners, flags or slogans that incite tension or make others feel uncomfortable or unwelcome are not allowed, at the Owner's discretion.
• No foul language audible beyond your own campsite.
Pet Policy:
Pet Policy: Your well behaved, non-aggressive, quiet pets are welcome on our RV & Tent sites. Visitors are not allowed to bring pets. Pets are allowed in pet designated rental units but must be preapproved at time of making your reservation.
• A copy of a recent rabies vaccination MUST BE presented at registration.
• Pets must be kept in your camping unit during quiet time.
• At NO time, may a pet be left alone or unattended. Do not chain or tie them to trees or tables.
• Pets must be kept on a maximum 6 foot leash when being walked or a maximum 6 foot run when tied at your campsite.
• Please clean up after your pet and use our Pet Waste stations.
• No pets allowed in any campground buildings, the pond or the swimming pool area.
• Pet owners are 100% liable for any injuries or property damage caused by their pets.
• Campground must be advised of breed(s) of your dog. Please be truthful. Friendly, quiet dogs of all breeds are welcome.
Cabin and Trailer Rentals:
There is no linen or maid service provided for cabin or trailer rentals. Please bring your own towels and bedding. There are limited cooking utensils provided. Towels & linens are available to rent at main office.
Pool Policy:
Our swimming pool is open from Memorial Day weekend through Labor Day for registered campers only. There is No Lifeguard on Duty. There must be 2 adults present, age 18 or older, inside the pool fence, for anyone to swim. Children under 18 must be ALWAYS accompanied by a parent or guardian, while in the pool area. Complete rules and hours are posted poolside and must be read before entering the pool. NYS Department of Health pool rules form must be signed at campground office at check-in time as per New York State Law.
Other Policies:
• Cash or credit cards only at check in. Checks accepted only for advance reservations (45 days prior to arrival).
• Maximum of 6 persons in Cabins, RV and Tent sites. Maximum persons in Rental Trailers vary by size of trailer with 2-6 persons maximum depending on unit. ALL rental trailer reservations must be made directly with campground.
• Maximum of 4 visitors to your site. All Visitors must register at office and pay fee before entering campground. Visitors are not allowed to bring pets, per NYS Health Department. Visitors must depart campground by 10:00 PM or pay overnight fee.
• Maximum of 2 vehicles at your site per local code ordinance. Overflow parking is available. Inquire at campground office.
• Check in from 3:00 PM until 7:30 PM. Check out time is before 12:00 PM for RV and tent sites and before 11:00 AM for rental units. Any exception to check in/check out times must be preapproved by campground management and fees will apply. As a courtesy to your fellow campers, no check in to the campground is allowed after 9:00 PM.
Camping has inherent risks associated with outside activities. Cooperstown Shadow Brook Campground, its owners and employees, are not responsible for any injuries or damages occurring as part of the inherent risks of any camping environment. Complete campground rules are posted in the office and furnished to guests at registration/check in. Please abide all campground rules.